Then it was over:
Jon sold the car to Mick Hillier at the end of the 1976 season for £400, having decided that running the car on his own was no longer any fun and was financially unsustainable having just bought a new house with nowhere to store the car and trailer.
The name "Uncle Scrumble" had been more about my nick-name than the car's identity. Mick, installed a Lotus twin cam engine and reverted to the Pony Express name to continue racing for many seasons under that banner. The car soon lost all resemblance to it's Eggleton/Billbury roots and in the most recent photo that I have, it had a hardtop body and V8 power.
Jon now lives in Dorchester, he never raced again but moved on to wind surfing, touring motorcycles and last year peddled home from Edinburgh on his recumbent tricycle!
Sharon and I now have a home near San Francisco in El Sobrante, California. Despite emigrating to the home of the sport we never raced again either. I still tinker with British cars from the 60s. The collection includes a 1968 Cortina GT (just like our push car) and a really rare US Export spec. 1964 Triumph Herald Estate. A 1964 Jaguar Mk II awaits attention in my retirement. I have also written the Road Book for the Plymouth-Banjul banger rally for the past three years and in 2004 my son, Graeham and I made that run across the Sahara desert in a £50 Mk 5 Cortina automatic (still competing on a budget!).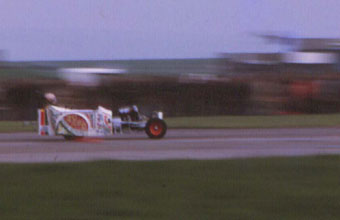 So both Jon and I remain a lit- tle bit crazy, did the drag racing cause it? Who knows, but life goes on………

Best wishes

Get in touch

scrumble@juno.com