This was a major crisis. In addition to rebuilding the car, Sharon and I had recently been surprised to hear from the US embassy accepting our application to emigrate. This was much sooner than expected and we only had until early June to get there! Sharon had just taken over as BDR&HRA General Secretary and had to bail out at short notice with Margaret Warne stepping in. We were selling most everything and packing the rest. Jon had agreed to buy the car but now it needed another major rebuild. It was a crazy time for everyone. Enter Stuart Thomas to save the day!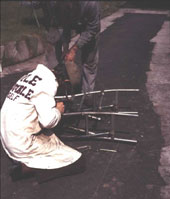 We agreed to move the engine back where it had been before and achieve the 35% engine set-back by extending the wheelbase forwards while replacing the damaged front chassis section. The team met one weekend to do this and we went for the then newly fashionable tapered chassis profile with aluminium side panels. Our first attempt was tack welded with a ghastly rented oxy-acetylene set. The frame looked really good, 'almost like a digger' someone said. But a quick check revealed we had the arithmetic wrong and it was a foot too long! Anyway, Stuart took everything away and the very next weekend was back with a completely finished and dimensionally correct frame in tow. What a guy? Were we ever grateful?..........
The next meet at RNAS Wroughton was the last for Sharon and me. We would never see a run under 13 seconds but I could taste it and by mid June in California we heard that Jon and Stuart had finally succeeded. I recall sending a congratulatory postcard (no e-mail back then) with the words, "12.9!? I bloody told you!", signed "Uncle". Jon cherished the moment and has kept the card ever since but I think he was always a bit pissed off about the 7P postage due!